Hi there, community!

I am thrilled to introduce a range of exciting updates and new features designed to elevate your attendance tracking experience.
In this post, I'll briefly discuss the changes and the wide range of new features you can now leverage. You can read about all the changes made on our help desk article here in detail - Article
What's New: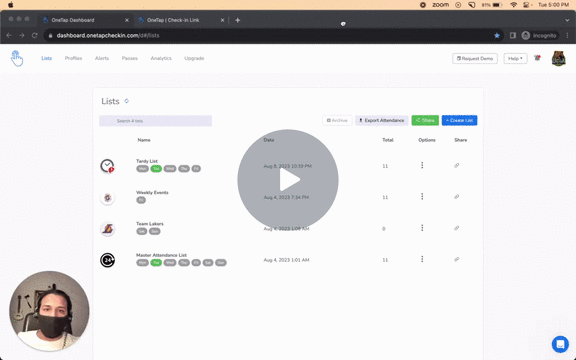 Revamped Admin Dashboard:
Our Admin Dashboard has received a fresh makeover! We've listened to your feedback and made user experience enhancements that streamline navigation, simplify the interface, and make managing attendance a breeze.
UI and UX changes
Lists - easy to navigate through recurring lists
List avatars - personalize your lists with avatars
New Features
Integration of Barcodes - bring your organization's assigned barcodes and integrate them with your OneTap account
Barcode scanner integration with dashboard and new iOS App.
Revamped Analytics Tab - easy-to-read profile attendance in calendar format. Use different filters to get the data you want for any attendee.
Archive lists - Not using a list but don't want to delete it? Archive it!
Enhanced iOS App:
For our iOS users, we've rolled out an updated app that brings even more convenience to your attendance tracking process. From smoother user flows to enhanced functionality, you'll notice the difference right away.
UI and UX changes
Preview custom fields - Adding or removing custom fields is not confusing anymore
New profile avatars - In KIOSK mode, attendees can change their profile avatars during check-ins
New icons - new icons throughout the App.
New Features
New KIOSK - We have merged all the previous KIOSK modes.
Universal check-in link and New registration link
Now, Admins can share the new universal check-in and registration links straight from the iOS App.
Barcode scanner - barcode scanning capability added to both behind the desk and KIOSK mode
How to Get Started:
Getting started with the new changes is easy! Simply log in to your Admin Dashboard or update your iOS App from the App Store to access the latest features. If you're not sure about anything, our updated Help Desk articles are there to guide you through the process step by step.
https://app.intercom.com/a/apps/x7xei03y/articles/articles/8243758/show
Share Your Feedback:
As always, we value your feedback tremendously. These changes were made with you in mind, and we're eager to hear what you think. Have an idea for a future feature? Notice something we could improve even further?
Let us know – your insights drive us to keep refining and enhancing OneTap.
Join the Conversation:
Feel free to join in the conversation on our community forum. Share your experiences, ask questions, and connect with fellow OneTap users. Together, we can make attendance tracking even more efficient and effective.
Thank you for being a part of the OneTap community. We're committed to continuously improving and providing an outstanding attendance solution. Stay tuned for more exciting updates in the near future!
Best regards,
Yuvaneet
Product Specialist, OneTap