Hello, valued members of our community!
We're thrilled to show you another trick up our sleeves: The Visitor App
The OneTap Visitor App is a powerful tool designed to revolutionize the check-in process. With features like swift check-ins and reliable data capture, it ensures a seamless and secure experience for both hosts and visitors.
Here's a quick video



Visitor App Demo (2 min) - Watch Video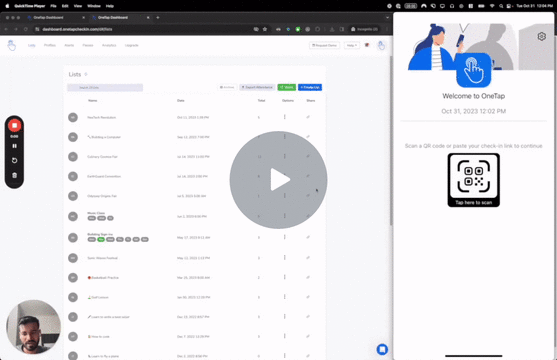 Benefits:
The OneTap Visitor App offers a range of advantages to streamline your check-in process and enhance security. These benefits include:
Efficiency: Swift check-in process with minimal steps for a seamless experience.

Accuracy: Reliable data capture reduces the risk of incorrect sign-ins.

Control: Greater control over check-in restrictions and visitor access.

Data Access: Visitors have convenient access to their check-in history and passes.
​
The OneTap Visitor App addresses common challenges in attendance tracking:
Streamlined check-ins for returning attendees: With the visitor App, it gets easy for the attendees to check in/check out to multiple lists with less number of taps.

Unauthorized Sign-Ins: It makes it tougher for individuals to sign in on behalf of someone else.
Who is it For?
The OneTap Visitor App is ideal for a range of industries, including:
Gyms: Streamline visitor check-ins for a hassle-free experience.

Universities & Schools: Enhance security and efficiency for students, staff, and visitors alike.

Recurring Events: easy check-ins for event attendees
Checkout this detailed article on the Visitor App


https://help.onetapcheckin.com/en/articles/8442991-visitor-app-intro
---
Thank you for being an integral part of our community, and stay tuned for more exciting updates on the horizon. Your feedback fuels our progress, and we're committed to providing you with the best tools for your unique attendance needs.



Let us know what you think about this update.